Tuesday, June 6th, 2017
Sunday, June 11th , Virginia Lutherans gathered at Roanoke College in Salem, Virginia for Synod Assembly elected the Rev. Bob Humphrey of Muhlenberg, Harrisonburg to be the next Synod Bishop.
We lift up prayers of thanksgiving for the faithful service of Bishop Jim Mauney and his family, and praise God for the past 18 years of ministry together.
We lift Bishop-elect Humphrey and his family. Grant him the wisdom, strength, grace, compassion, sense of humor, and patience necessary to serve.
We lift up Synod Council and newly elected Council and committee members.
We lift up the ELCA as together we serve God and neighbor throughout the world.
We ask God to bless the Virginia Synod and to grant every thing that our Synod may need as we begin this new chapter.
In the name of Jesus Christ, our Savior and Lord. Amen
Tuesday, May 16th, 2017
St. Paul's Sunday school programs will take a break for the summer after class on May 21st. Our Rally Day kick-off for the new season will be September 10th and the first day of classes in the fall will be September 17th.
During the summer, our worship schedule remains the same–10:00a.m. on Sunday mornings, except on July 2nd when we have our outdoor worship & picnic.
On July 2nd, please join us at Sandy Bottom Nature Park, 1255 Big Bethel Road, Hampton, at 11:00a.m. for worship followed by our annual picnic. Hamburgers, hot dogs, buns, condiments, paper products and cold drinks will be provided. Please bring a side dish or dessert to share, and invite a friend! Our theme this year is "Red, White & Blue" for the 4th of July. There will be NO services at the church on July 2nd.
This summer, we lift up special prayers of thanksgiving for the ministry of Bishop James Mauney of the Virginia Synod as he prepares to retire, and we ask God's blessing on Synod Assembly the weekend of June 9th-11th and on the election of our new Bishop.
Thursday, February 16th, 2017
This Sunday, February 19th, at 10:00a.m.,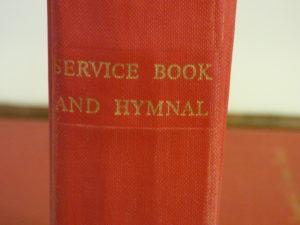 St. Paul's invites you to join us for a special service celebrating our Lutheran heritage. Worship will be based on the "Old Red Book," The Service Book & Hymnal from 1958. If you miss saying "Thee" and "Thou" and "Holy Ghost," this is the service for you. Invite a long-time Lutheran friend and revisit church the way it used to be in "the good old days."
Tuesday, January 24th, 2017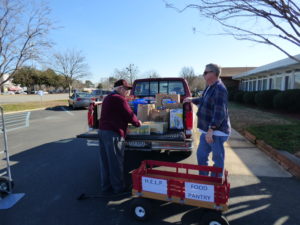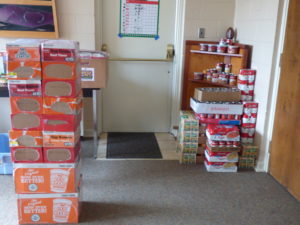 CAN WE DO IT? YOU BET WE CAN!! 976 cans and packages of soup were delivered to the H.E.L.P. Food Pantry for the Souper Bowl of Caring! Next year? 1,000!!
Thursday, January 12th, 2017
Seems the camels got stuck in the snow, so we will celebrate the Epiphany of Our Lord this Sunday, January 15th with Holy Communion. If your holidays aren't complete without singing "We Three Kings"–now's your chance! Worship begins at 10:00a.m.
Friday, December 9th, 2016
Service of Lessons & Carols, New Year's Day, Sunday, January 1st at 10:00a.m.
Celebration of Epiphany, Sunday, January 8th at 10:00a.m.
All are welcome to receive communion. Come as you are to the table of grace.
Friday, October 14th, 2016

St. Paul's wishes to thank the Mission Investment Fund of the Evangelical Lutheran Church in America for their assistance with  our roof and HVAC project.  In the next few weeks, major improvements will be made to our roof and heating and air-conditioning system.  We are pleased to be working with Creasy & Whiteed Roofing Company and Mike Reaves Mechanical LLC to accomplish this work, which will enhance our building and make it more energy-efficient.
Wednesday, September 21st, 2016
Tuesday evening, October 4th, at 7:00p.m. all creatures great and small, furry, finned or feathered, and their human friends and family, are invited to a Blessing of the Animals service on the lawn at St. Paul's.  Please keep your animal companions safe with appropriate restraints, and bring pictures of those who are too shy to attend.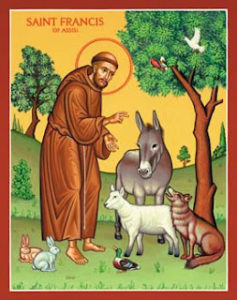 Friday, July 22nd, 2016
Please join us on Sunday, July 31st at 3:30p.m. as the Reverend Timothy Michael Crummitt is installed as Pastor of St. Paul's Evangelical Lutheran Church!  A reception with light refreshments will follow the Service of Holy Communion.  All are welcome to commune.  Clergy are asked to vest and process.  The color of the day is green.
Monday, June 27th, 2016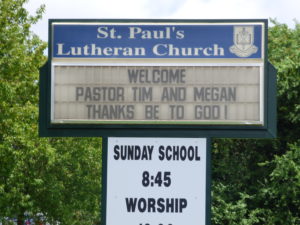 This week, we welcome our new pastor, Rev. Timothy Crummitt, and his wife, Megan, to St. Paul's.  We will have a Star-Spangled Welcome for the Crummitts after worship on Sunday, July 3rd.  An installation service will be held on Sunday, July 31st at 3:30p.m.